The Spirit's Call Choir

Winnipeggers delight in the community of chorus

"All God's critters got a place in the choir
Some sing low, some sing higher
Some sing out loud on the telephone wire
And some just clap their hands, or paws
Or anything they got."
- Bill Staines

by Syd Baumel



It's a choir that makes a beautiful noise, sings songs from most every culture and tradition, does "gigs," and prides itself on being a beacon for the muffled masses of "squelched nonsingers," shower-stall Pavarottis, and recovering "goldfish."

It's a choir where there are no "have-to's," as one grateful member puts it.

It's a come as you are, whenever you like, choir.

And bring your favourite music.

And pay what you can (if you can).

And bring your friends.

And skip the gigs if you're shy.

And help "co-create" this work-in-progress.

And, and, and . . .

It's the kind of choir Dr. Spock and Harry Belafonte could have dreamed up, with help from Mother Teresa: progressive, inclusive, permissive - and great fun.

The Spirit's Call Choir got its start in one of those charmed moments people remember with awe for the rest of their lives.

It was at an "Explorations of the Self" workshop two years ago. Participants had been asked to chant a Sanskrit mantra as a warmup for another activity.

Social worker Margaret Tobin, a counsellor and associate professor at the University of Manitoba who co-creates the Explorations workshops with Dorothy Becker, recalls:

"When we just allowed ourselves to sing and . . . let the sound of the chant come out, it was quite spectacular. Around the room, many people were saying 'I always thought I couldn't sing. . . .And I was singing, and it felt wonderful!'"

One excited participant joked, "we should form a choir! Ha ha ha!"

"And I thought, we should form a choir."

And so was born the Spirit's Call Choir, with Tobin at the co-creative helm and, before long, a seasoned choir director named Lyle Eide whose playfulness with music and people made him perfect for the job. The choir's name came from the idealistic organization Spirit's Call, of which Tobin is an associate.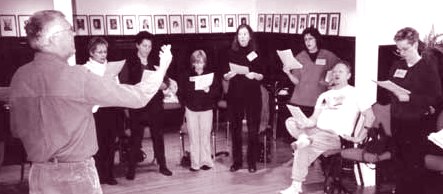 -- Choir practice. Lyle Eide (left), Henry Zacharias (seated). --

Membership has multiplied quickly.

"Our group is growing and growing," says Jan Dalmyn, "because you talk to people, and people feel a connection and a resonance and they want to join too."

On a chilly Sunday afternoon this fall, about 40 of the choir's roughly 100 members and drop-ins show up for a session at the choir's posh digs in the Westgate heritage home that is the University of Manitoba Women's Club ("men definitely welcome," Tobin is at pains to emphasize). It's been a while since the last get-together. As a "talking stone" is passed around, a common theme emerges: Boy, have I missed this!

The idea of a full-blown, performance-ready community choir would likely have never occurred to Tobin were it not for the example of the celebrated Gettin' Higher Choir of Victoria, BC, and a bumper crop of similar havens for the post-Mitch Miller set that have been springing up like wildflowers from Seattle to Sheffield.

"These choirs are creating a new paradigm for choral singing," says Val Rogers, Director of the Eugene Peace Choir in Oregon, in an article in Yes! magazine. "We're motivated by much more than aesthetics alone. We're singing for liberation, singing for a better society."

Although the Spirit's Call choristers cutely refer to their performances as "gigs," the Ozzy Osbourne effect stops there: there are no roadies, no groupies, no trashed hotel rooms. The gigs - about one every couple of months - reflect the choir's progressive values: charitable benefits, like the Amnesty International fundraiser last December; communing with nature, like the Summer Solstice singing and drumming circle at La Barriere Park this summer; and "house blessings" where the choir saturates a new home with good vibrations.

In typical community choir spirit, Spirit's Call welcomes people of all shapes and sizes, ages, colours, religions, genders, sexual preferences, waist-hip ratios, and, of course, vocal abilities.

"When we did our first big gig," jokes Sheila Bradford, "we were trying to figure out what to wear, and everybody in the room said 'shower caps.'"

"There's a lot of people who've come here after being told for their whole life they couldn't sing and being kind of damaged by that," says Clark Kenyon, who sings and plays guitar with the choir. They're told to just let it blast. "I don't think I've heard anyone say, 'gee, I felt too scared to sing.'"

Dorcas Wehner, "one of the ones who hasn't sung in a choir since junior high, when I was told to mouthe the words," says: "For someone who has not been confident, comfortable, singing in public at all, [it's] a life-changing experience."

Finding their singing voices has helped some choir members develop their personal voices.

"I have found another piece of me. I'm more whole," says Dalmyn.

Can Da'Ce [Kan-da-cee] Cross gets a "deep feeling of belonging" from the choir, "and I think that goes with me in other places."

Bradford, who describes herself as multiply disabled, says "I get quite isolated." Without a job or the trappings of affluence, "you often get discredited." Singing in the choir is "something I can give generously" to raise money for others. "That gives me value. That gets me beyond my house. That gets me beyond disability."

As a counselor, Tobin sees many students who are painfully caught between social and parental expectations and who they really are or wish to become. She puts in a heartfelt plug for the choir. It's "a community," she tells them, "where. . . .we celebrate one another's becoming the fullest people we can be in every way, in our singing voices and in our voices in the world."

These days the Spirit's Call Choir is particularly excited about an impending visit by Shivon Robinsong, the aptly named founder and co-director of Victoria's Gettin' Higher choir. Robinsong will be leading a "Sing for Your Life!" weekend workshop in February. For more about the choir or the workshop, contact Margaret Tobin at 488-0078 or tobin@ms.umanitoba.ca. The choir's website is at www.spiritscall.com.

Syd Baumel is editor of The Aquarian and a keen amateur musician.

A Global Spirit

The motto of the Spirit's Call Choir could well be "sing locally, find your repertoire globally." In one Sunday session, we practise a Sanskrit chant, a Muslim prayer, two Latin hymns, a Spanish lullaby, and a rousing African spiritual to the rumble of drummer Henry Zacharias's Djembe. It has choir director Lyle Eide gyrating his hips and me itching to break out into an Andy Kaufman routine.

Later I ask a small group of members about their favourite songs.

Zacharias is awed by the challenge and excitement of participating in the three-part Latin round "Dona Nobis Pacem" ("Grant Us Peace"). "It's a complete, total trip for me."

For Dorcas Wehner of "just mouthe the words" fame, discovering she could sing the glorious "Pachelbel's Meditation" (the popular Baroque canon set to words) in four-part harmony was an epiphany.

Amaraanand ("all glory to immortal bliss"), the Sanskrit chant that got the choir going, keeps working its magic for Clark Kenyon. "It's powerful," he says. "It really flows through you."

"The chants," someone adds, "draw people in; and before you know it, there's a harmony that happens all by itself."

Other things happen too.

"At times the songs have brought me to tears," says Carol Schinkel.

Cross, who likes to sing in the bass section, says she loves how the deep notes reverberate throughout her body. "I carry it with me . . . when I'm just walking along or waiting at a bus stop. . . .It really lifts you up."

When the choir sings in Latin, one member "can almost see the sound coming through stained glass windows."

"When . . . we're singing the songs and harmony's all around me," adds Jan Dalmyn, "it transports me to another place. It's really wonderful."

Bradford emotionally recalls the time she was at home practising a Muslim prayer and a Latin chant for the choir as a beloved pet lay dying. "Those chants were the only thing that could put my cat in a peaceful state," she says.

Tobin suspects the ripple effect goes further than that. "It's my belief that the vibrations of our sound really contribute to raising the vibrations in the world."

-- Syd Baumel